Home Ownership Schemes
Help To Buy Equity Loan
How does it work?
With a Help to Buy: equity loan the Government lends you up to 20% of the cost of your new-build home, so you'll only need a 5% cash deposit and a 75% mortgage to make up the rest. You won't be charged loan fees on the 20% loan for the first five years of owning your home.
Example: for a home with a £200,000 price tag If the home in the example above sold for £210,000, you'd get £168,000 (80%, from your mortgage and the cash deposit) and you'd pay back £42,000 on the loan (20%). You'd need to pay off your mortgage with your share of the money.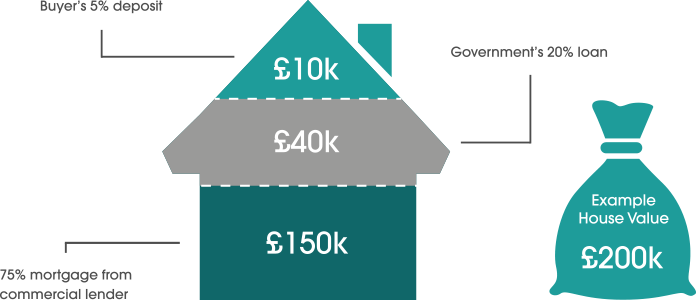 London Help to Buy equity loan To reflect the current property market in London, from early 2016 the government will increase the upper limit for the equity loan it gives new buyers within Greater London from 20% to 40%.
With London Help to Buy equity loan:
you'll need to contribute at least 5% of the property price as a deposit;

the government will give you a loan for up to 40% of the price;

you'll need a mortgage of up to 55% to cover the rest. - See more

here
Who is eligible?
Equity loans are available to first time buyers as well as homeowners looking to move. The home you want to buy must be newly built with a price tag of up to £600,000. You won't be able to sublet this home or enter a part exchange deal on your old home. You must not own any other property at the time you buy your new home with a Help to Buy equity loan.
Shared ownership
Shared ownership schemes (part buy/part rent) are provided through housing associations. You buy a share of your home (between 25% and 75% of the home's value) and pay rent on the remaining share. You can buy bigger shares at a later stage when you can afford to. With shared ownership you can buy a newly built home or an existing one through resale programmes from housing associations. You'll need to take out a mortgage to pay for your share of the home's purchase price, or fund this through your savings. Shared ownership properties are always leasehold and you can buy a home this way if: Your household earns £60,000 a year or less. In London this is higher: £66,000 a year for a home with one or two bedrooms, or £80,000 for family homes of three bedrooms or more You're a first-time buyer (or you used to own a home, but can't afford to buy one now) If you rent a council or housing association property, then you will receive priority for buying a home through shared ownership. The same priority is given to Armed Forces personnel. Local authorities with shared ownership home building programmes may have further priority groups, based on local housing needs, such as people already living or working in the area.
Right to Buy
If you are a council tenant with a least five years' tenancy you might be eligible to buy your home at a significant discount. Some housing association tenants may also be eligible.